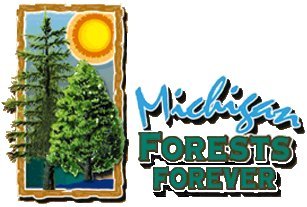 MICHIGAN FORESTS FOREVER TEACHERS GUIDE
---
| | |
| --- | --- |
| TREE COOKIES | |
PLT Tree Cookies activity, Project Learning Tree Pre K-8 Guide, Seventh Edition, page 289, Activity #76
Overview
One of the best ways to learn about a tree is to look at its annual rings. Tree rings show patterns of change in the tree's life as well as changes in the area where it grows. In this activity, students will trace environmental and historical changes using a cross section of a tree trunk, or "tree cookie"
Objectives
Identify heartwood, sapwood, and a tree's annual rings.
Infer from a tree's rings what damage or stress might have occurred in its life.
Make a timeline of human history that coincides with a tree's rings.
Note: Many of the activities on this website reference Project Learning Tree (PLT) activities. PLT has copyrights on these activities but has granted permission to provide outlines to render a general ideas of what each activity covers. There are two PLT activity books, one for Pre K-8 and another for high school (recent revisions). There are also a number of special modules available through PLT in 2004. For more information about PLT, visit the national website at www.plt.org and the Michigan PLT website at www.michiganplt.org.
---
Page Name: TreeCookies.htm