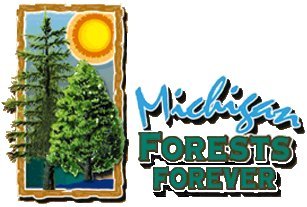 MICHIGAN FORESTS FOREVER TEACHERS GUIDE
---
"Balance" refers to forest management decisions that consider a large number of biological, economic, and sociological factors. Some of these factors, or elements of a factor, may not be as well understood as desired. However, the demand by the public for increasing amounts of wood, recreation, wildlife, clean water, and other outputs requires that we manage for these things as best as possible. WITH management, our forests will produce more outputs than without management. Management is also the answer to many environmental challenges (read the background essay by Dr. Patrick Moore), such as climate change and carbon sequestration..
Forests are NOT managed for the sake of the forest. They are managed for people. Forest don't need management. Forests were here long before people and they did just fine. People need forests. That's why forests are managed. And that's where the economic and sociological factors come into play with forestry. Sometimes factors contradict each other and controversy arises. Other times, the results of proposed practices or policy are not fully understood by science and objections are raised. Many times in the public arena, perception counts more than science.
A Forestry Primer
Forest Management Systems
Multiple Use
Use of Wood
Fast Fun Forest Facts
Forest Management Guidelines for Michigan (By the Michigan Society of American Foresters)
In the table below, some of the forest management factors are listed. Some factors might fit in more that one category.
BIOLOGICAL FACTORS
ECONOMIC FACTORS
SOCIOLOGICAL FACTORS
Forest Type
Tree Species Mix
Tree Species Characteristics
Timber Age, Size, Quality
Stand Density
Soil Type & Condition
Habitat Attributes
Rare Species or Features
Proximity to Water
Landscape Characteristics
Forest Pest Situation


Timber Product Mix
Access to Stand
Size of Timber Sale
Soil Conditions
Local Topography
Distance to Mills
Type of Mills
Season of Year
Mill Prices
Stumpage Prices
Type of Harvest Equipment
Type of Harvest System
Road System Quality
Trail Construction
Water Crossings
Forestry in Local Economy
Average Income Levels
Unemployment Rate

Proximity to High Use Area
Harvest System
Visual Appearance
Attitudes About Harvest
Attitudes About Forests
Ownership of Stand
Landowner Awareness Level
Management Objectives
Competing Use Interests
Available Assistance
Local Human Demographics
Laws & Regulations
Logger Skill Level
Rural vs. Urban
Landowner Associations & Co-ops
---
Page Name: Balance.htm