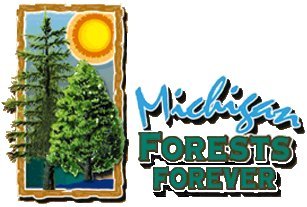 MICHIGAN FORESTS FOREVER TEACHERS GUIDE
---
Michigan has some of the finest quality forest-based recreation in North America. Forests cover over half our state and has one of the largest areas of timberland in the United States. Snowy winters and hot summers accommodate a wide variety of activities. Proximity to four of the five Great Lakes, plus the thousands of inland lakes and miles of rivers and streams, add to the diversity of our landscape.
Forest Recreation By Ownership
Forest Recreation Activities
Fast Fun Forest Facts
What Is Forest-based Recreation?
Basically, pleasure and leisure activities that happen in forests, near forests, or at least partially because of forests can be described as forest-based recreation.
The Importance of Forest Recreation
There are several facets of "importance" related to forest recreation. Lifestyle and family tradition would likely rate high on anyone's priority list, but is difficult to quantify. The tourism aspect certainly can be translated into dollars and economic impact, although carving out the part attributable to just forest-based recreation is problematic. Lastly, recreation changes the way in which many people perceive the value of the forest in relation to other uses, particularly timber harvesting.
Lifestyle and Family Tradition
Just knowing that healthy, growing forests are abundant in Michigan offers comfort to many people. Studies show that Americans care deeply about trees and forests. Try to imagine how different our lifestyles might be without forests nearby. Think of North Dakota or any of the plains states! Michigan residents (and non-residents) value camps, second homes "up north", and family vacations and outings. It's part of our culture.
In Michigan, you are never far from a forest, even in our large metro areas. Forest preserves, woodlots, parks, and public forests all offer a variety of benefits and opportunities.
A study done in the eastern U.P. (McDonough, et al.) counted over a half-million person-days of forest-based activities just by residents! That's about 10.5 days per resident per year. Over half the study respondents indicated the following three strategies as most important; 1) setting aside natural areas, 2) tourism, and 3) more outdoor recreation opportunities. Over half the households participated in wildlife watching, fishing, berry picking, wildlife feeding, and hunting.
Economic Impact
Certainly, the popularity of forest-based tourism makes significant contributions to the state and local economies. Michigan accounts for nearly half the outdoor recreation dollars among the Lake States (Michigan, Wisconsin, and Minnesota). Michigan forest tourism generates around $4 billion each year and is a major portion of the economies in the northern Lower Peninsula, the Mackinac Straits, and the Keweenaw Peninsula (GLFA, 1996). The Michigan Forest Resource Alliance states that Michigan forest-based tourism adds about $3 billion to the economy each year, supporting 50,000 jobs. That compares to roughly $20 billion from forest industry and 99,000 jobs. The relative importance of forest-based tourism with forest industry and other economic sectors will vary widely from county to county.
EUP
Economic
Sector

Value-Added
Dollars

Number of
Employees

It is a confusing exercise to try and understand apparently conflicting data about economic indicators related to natural resources and tourism. Studies are uncommon and don't often use the same set of measurement criteria. Nevertheless, it is clear that forest-based recreation is a key factor to the economic well-being of many of our rural counties, especially those located in northern Michigan and the Upper Peninsula. It is also clear that forest management and forest recreation are intertwined. A Lake States Forest Alliance study shows that most counties with both industry and recreation have stronger local economies than those counties with just one or the other. It also seems apparent that the importance of forest-based recreation is growing.

Tourism
Wood Products
Agriculture
Mining
Fishing
93,100,000
63,200,000
12,500,000
7,000,000
1,200,000

---
665
590
109
230

Source: McDonough, et al., 1999.
Separating direct and indirect impacts, and forest-based impacts from other recreation impacts can be difficult. The eastern U.P. (EUP) study calculated 93 million value-added dollars were due to general tourism in 1995. Traditional sectors of fishing, and farming products have declined, while tourism and forest industries have grown. The largest industry value-added category in the EUP study was government. The relationship between natural resource and tourism sectors will vary from county to county and among the regions of Michigan.
Perception of Forest Values
People who experience forests only through recreation may grow ambivalent, or even antagonistic toward forest management, especially timber production. Even issues of environmental quality, endangered species, and landscape attributes may take a back seat to recreation values. Urban and suburban visitors who recreate in forests often value forests differently than rural residents who live and work in forests. Retirees and seasonal residents are sometimes reluctant to fund local tax increases for school projects, infrastructure development, and similar purposes, yet may increase demand for better roads, police and fire protection, and medical services.
The quality of life associated with rural forests attracts greater numbers of retirees and seasonal homeowners. Forest values and perceptions of new (or returning) landowners may be different from those of long-term and permanent residents. In the EUP study, seasonal residents more strongly favored limited growth and increased numbers of set-aside natural areas. Permanent residents tended to favor additional manufacturing, tourism, forest industries, and timber harvest.
---