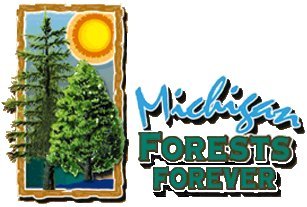 MICHIGAN FORESTS FOREVER TEACHERS GUIDE
---
Getting Wood to Market
Michigan Wood-Using Mills
Michigan Wood Products
Reduce, Reuse, Recycle, RENEW!
Michigan Forest Industry Economics
Types of raw wood forest products
A note about "stumpage"
Essay by Jim Bowyer
Fast Fun Forest Facts
Wood is an incredibly useful and environmentally friendly raw material. Wood uses less energy to extract and make into usable products, and results in the lowest level of emissions, including carbon. It is versatile and inexpensive to produce, and is the only renewable major natural resource. This renewable property is, perhaps, the greatest aspect of using wood. Once you remove a ton of iron ore or a barrel of oil, it doesn't grow back. Wood does grow back, especially if the forests are managed effectively. In the near future, we are likely to see wood used in a variety of innovative ways; transportation fuels, chemicals, electricity, and new ways of heating. Innovators are working on cellulose technologies that will result in vehicle tires, plastic bottles, and automobile bodies. These sorts of applications save money, energy, and help slow climate change.
Products made from wood, or containing wood and wood derivatives, number in the thousands. Michigan has an amazing collection of wood-using industries, contributing about twentyh billion dollars (estimates vary) each year to our state economy. While industry and jobs are critical to our well-being, forests also have the advantages of producing clean air and water, protecting soil, supporting a burgeoning forest recreation sector, and providing a vast array of wildlife habitats. No other raw materials can say as much.
Timber harvesting is where it all begins. The raw wood products have to be brought out of the forest and delivered to one of Michigan's many primary wood-using mills. From there, secondary products might be sold in the wholesale market or they might be used in an additional value-added manufacturing process. In addition to supplying wood, timber harvesting can also meet objectives for wildlife management, regenerating forests, sequestering carbon, cleaning water, and maintaining all of the non-timber forest products.
---