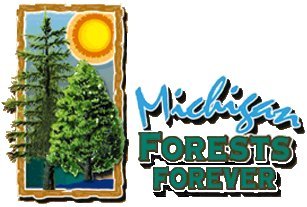 MICHIGAN FORESTS FOREVER TEACHERS GUIDE
---
There are many ways to categorize differences within the forest. One of the more commonly used classifications is that implemented by the U.S. Forest Service in their Forest Inventory and Analysis Unit (FIA). In Michigan, there are over 60 forest types labeled according to their dominant tree species. These forest types have been categorized into 14 "associations" of similar ecological characteristics. Species diversity varies naturally between forest types and these associations. Human influence has also impacted species diversity and distribution. Tree species diversity may, or may not, reflect the diversity of all plant forms, but might serve well as a preliminary indicator. Lastly, the FIA figures are for each forest association on a statewide basis. Every stand of trees belonging to a particular forest type will not display the same level of diversity as the entire association. Geography, stand history, soils, water, and other factors create variability.
Acreage and Number of Tree Species Recorded in the Forest Associations of Michigan
Forest Type Group
Acres

#Species

Forest Type
Acres
#Species

Northern Hardwoods
Aspen
Swamp Hardwoods
Oak-Hickory
Mixed Upland Hardwoods
Cedar
White Pine


5,138,303
2,388,646
2,404,930
2,388,646
2,005,123
1,333,316
1,062,862


47
36
51
53
56
26
26


Swamp Conifers
Red Pine
Jack Pine
Upland Conifers
Exotic Conifers
Cottonwood-Willow
Non-stocked

1,050,050
932,817
683,802
347,734
218,889
166,497
153,156

23
29
17
23
24
26
12

Source: FIA data, 2017
The forest type association with the highest number of tree species is the mixed upland hardwoods, which is a broad association of many different forest types. Sixty-four tree species have been recorded within this association, the most common being red maple, white pine, black cherry, red pine, and quaking aspen. The mixed upland hardwoods tend to be mid-way along the process of forest succession, frequently with recent disturbance.
The forest associations with the least number of tree species are jack pine and upland conifers. These stands tend to be highly dominated by either jack pine or hemlock, respectively, each with about 20 associate tree species. Jack pine stands are strongly dominated by jack pine (63 percent of the volume). The upland conifer group has volume largely split between hemlock and white spruce.
The simple number of tree species is only one way of looking at diversity. The idea of "species richness" is important, too. Richness has to do with how dominant a few species are. For example, two stands may each have 1,000 trees of 25 tree species. In one stand, each species may have an equal number of trees, or 40 trees per species. This would be a species "rich" stand. The second stand may have 5 species that have 100 trees each, and the remaining 20 species have only 25 trees each. This stand would less "rich".
If we look at 13 Michigan forest type groups using a tree species richness measure, the most diverse forest type is mixed upland hardwoods (which is a mix of many forest types, often on highly disturbed sites). The least diverse groups would be red pine and jack pine.
Tree Species Richness in Michigan Forest Types

Forest Type

Five Most Common Tree Species

Percent Volume of
Top Five Species

Northern Hardwoods
Aspen
Swamp Hardwoods
Oak-Hickory
Mixed Upland Hardwoods
Cedar
White Pine
Swamp Conifers
Red Pine
Jack Pine
Other Upland Conifer
Exotic Conifers
Cottonwood-Willow


Sugar Maple, Red Maple, Basswood, Hemlock, Yellow Birch
Quaking Aspen, Bigtooth Aspen, Red Maple, Balsam Fir, Cedar
Red Maple, Silver Maple, Green Ash, Cedar, Black Ash
N. Red Oak, Black Oak, White Oak, Red Maple, N. Pin Oak
Red Maple, White Pine, Black Cherry, Red Pine, Quaking Aspen
Cedar, Black Spruce, Balsam Fir, White Pine, White Spruce
White Pine, Red Pine, Black Cherry, Red Maple, Hemlock
Black Spruce, Tamarack, Balsam Fir, Cedar, White Pine
Red Pine, White Pine, Jack Pine, Red Maple, Bigtooth Aspen
Jack Pine, Red Pine, Black Spruce, Red Maple, White Pine
Hemlock, White Spruce, White Pine, Red Maple, Cedar
Scots Pine, Austrian Pine, Red Pine, Norway Spruce, N. Red Oak
Cottonwood, Red Maple, American Elm, Black Willow, Black Cherry


75
77
66
71
64
85
88
79
94
92
83
82
88


Source: FIA data, 2017
Yet another way to look at forest tree diversity is the species distribution across different forest assciations. For example, sugar maple, beech, and basswood are largely restricted to northern hardwood stands. Red pine, jack pine, and cedar have a high fidelity to their respective forest types. They are far less commonly found in other forest types. On the other hand, most of the white spruce volume is not found in white spruce stands. And, red maple is found across multiple assocations, as is balsam fir, white spruce, paper birch, white pine, and black cherry. The following table shows how much volume of a particular species is found within its "typical" forest type group. Species with high percents may be good indicators of a single forest type. Species with low percents are not very good indicators, but have the ability to survive across a wide spectrum of site conditions and forest associates. This concept is commonly used with understory species, particularly wildflowers, that can be used to indicate certain site conditions and productivity in a "habitat classification" system. Wildflowers are frequently better indicators than trees.
Forest Type Association Preferences for Common Michigan Tree Species (in order by volume)
Species
Forest Type Group

Percent of Volume
in Forest Type Group

Species
Forest Type

Percent of Volume
in Forest Type

Sugar Maple
Red Maple
Red Pine
Cedar
White Pine
N. Red Oak
Quaking Aspen
Bigtooth Aspen
Black Cherry
Hemlock
Basswood
Black Oak
White Oak
Balsam Fir
Silver Maple


Northern Hardwoods
Mixed Upland Hardwoods
Red Pine
Cedar
White Pine
Oak-Hickory
Aspen
Aspen
Mixed Upland Hardwoods
Northern Hardwoods
Northern Hardwoods
Oak-Hickory
Oak-Hickory
Aspen
Swamp Hardwoods

94
30
78
74
36
66
63
57
39
57
75
86
87
22
88

White Spruce
Paper Birch
Yellow Birch
Black Spruce
Jack Pine
Green Ash
Beech
Cottonwood
White Ash
N. Pin Oak
Black Ash
Tamarack
Balsam Poplar
American Elm
Scots Pine
Bur Oak

Upland Conifers
Northern Hardwoods
Northern Hardwoods
Swamp Conifers
Jack Pine
Swamp Hardwoods
Northern Hardwoods
Cottonwood-Willow
Northern Hardwoods
Oak-Hickory
Swamp Hardwoods
Swamp Conifers
Swamp Hardwoods
Swamp Hardwoods
Exotic Conifers
Mixed Upland Hardwoods


20
25
77
59
68
81
84
65
71
74
58
59
51
42
69
47

Source: FIA data, 2017, for tree species with at least 100 million cubic of volume in Michigan.
---