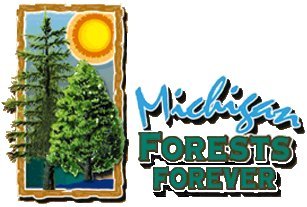 MICHIGAN FORESTS FOREVER TEACHERS GUIDE
---
| | | |
| --- | --- | --- |
| | Overview | |
Wood Energy Curriculum for High School Classrooms
This curriculum is not well-developed in terms of lesson plans and activities. The structure is simple with groups of discussion/research questions. The student responses are intended to be largely open-ended. The curriculum is designed to be exploratory, generate discussion, encourage students to think about the right questions before trying to find answers, and to have students collaborate in their exploration. Sharing and challenging is encouraged. If you're looking for a more formal curriculum, the University of Florida has very good one [http://edis.ifas.ufl.edu/pdffiles/FR/FR33200.pdf]. The Florida product is an award-winner from the Association of Natural Resource Extension Professionals.
For Michigan, the Michigan Wood Energy website has information and case studies that apply directly to Michigan, including a handful of schools that heat with wood chips.
This curriculum is not directly tied to the Michigan Department of Education High School Content Expectations. However, for the Sciences, the strongest application will be to the first expectation in most Content Areas "X1 - Inquiry, Reflection, and Social Implications". For the Social Studies, most of the Expectations seem to be in the Content Areas of "World History & Geography" and "Economics".
Critical thinking and research skills are emphasized. Students will rely heavily upon the Internet where source reliability becomes an issue, and where assessment becomes a valuable life skill. By following the proposed design, the student work will coalesce with presentation skills and effective argumentation, or debate. Better, more defensible answers, are found through collaboration with group members regularly questioning each other.
This curriculum has a Michigan focus, although context extends to the USA and globally. The importance of energy issues will continue to grow over the next several decades. Students who engage these issues and apply them to their life choices will benefit, as well as contribute to social and environmental sustainability.
The five sections are:
One implementation idea is to divide the class into five groups, with each group assigned/selecting one of the modules. A pre-test (sort of) would be to have each group provide initial answers/opinions to each question, before any investigation. Record the responses for future comparison. Later, have each group research the answers using materials provided for each module, as well as other resources students might access (exploration encouraged, information brought to the table to be cited). Have each group collectively prepare a response and presentation for each question.
Make oral presentations to the entire class.
Ideas for presentations, technologies, venues, evaluation, etc. are encouraged.
Wood energy offers "real life" examples and applications of science and social studies.
---
Page Name: 0-MainBiomass.htm