MICHIGAN FORESTS FOREVER TEACHERS GUIDE
---
HOW TO MAKE AND USE A "HEIGHT STICK"
The height stick is used to estimate the height of the merchantable portion of a tree in eight-foot pieces, or the number of eight-foot pieces to an estimated top diameter. Typically, the top diameter for pulpwood is about 5 inches and must be estimated by the cruiser. The top diameter for sawlogs is more variable, but often 9 inches for softwoods and 11 inches for hardwoods. This height stick is reasonably accurate WHEN USED CORRECTLY!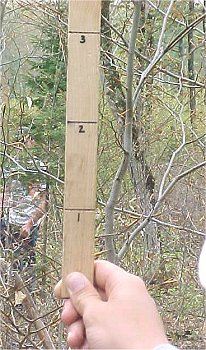 1. Stand one chain (66 feet) back from the tree. Accuracy is important.
2. Select the top diameter spot(s) before using the stick.
3. Hold the stick 25 inches from your eye.
4. Hold the stick VERTICAL . . . this is important.
5. Line the bottom of the stick up with the stump height (6-12" off the ground).
6. Without moving your head or the stick, count the number intervals on the stick BELOW the top diameter(s) of the tree.
7. Call out your readings to the tally-person. For example; "two logs and three sticks", would mean two 8-foot logs with three 8-foot pulpsticks above the logs.
HOW TO MAKE A HEIGHT STICK

All you need is a planed piece of wood and mark-off intervals at 3.1" inches.

Label each interval line as "1", "2", "3", etc. Each interval is equivalent to an
8-foot length in the tree. A stick 25 inches long will give a height range
of 64 feet.

Sticks should be light to carry, but strong enough to not break easily.
---
Page Name: Curriculum/SupportDocs/StickUse.htm