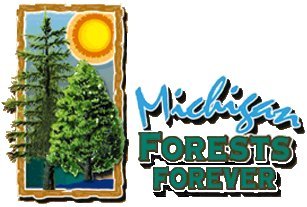 MICHIGAN FORESTS FOREVER TEACHERS GUIDE
---
Wood and wood derivatives are found in thousands of products that Americans use each day. Many of these products may not even bring wood to mind. Cellulose is a complex sugar molecule that is the essential part of wood that make wood woody. Cellulose is often blended with plastics, cement, and other materials to add qualities to various products. Football helmets, rayon clothing, toothpaste, food additives and thickeners, and sandwich bags are all good examples of composite materials that contain wood components.
Most people probably think of solid wood products when they think of wood construction products. There are materials such as lumber, particle board, and oriented strand board (waferboard). It also includes items like furniture, fence posts, toothpicks, tool handles, and hundreds of other products easily identifiable as being made out of wood. Michigan has hundreds of companies that make wooden products. "GlueLam", "Cross-Laminated Timber" and other engineered wood products are increasingly being used in building construction, including tall buildings as a high as 19 stories.
Paper products also commonly come to mind, and there are hundreds different kinds of paper, tissues, cardboard, and related products. The "Levi's" label on their jeans is made from a specialty paper manufactured at the paper mill in Munising. There isn't a day when we don't use something made out of paper, from cereal boxes in the morning to newspapers in the evening. Imagine life without toilet paper! Interestingly, "paper" money is made from cotton and linen, with no wood-based paper products.
Energy in various forms can be produced from wood. Firewood is the most traditional form. However, existing technologies exist to efficiently and cleanly produce both heat and electricity from wood. Heat is most efficiently distributed through a hot water system. Pellets and briquettes can be made from wood to supply specially-built stoves and furnaces. Much of Europe and New England now uses advance, fully-automatic pellet furnaces and wood-chip community systems to heat buildings. In Michigan, the soutwestern counties are "prime" for these cost-effective technologies. Wood can also be converted to transportation fuels, such as ethanol or biodiesel. While these technologies have been proven in the laboratory, demo sites, and pilot plants . . . a company has yet to produce commercial quantities of wood-based cellulosic ethanol or other transportation fuel.
Wood chemicals can be found in many common products. Cleaning compounds, perfumes, medicines, insecticides, deodorants, and artificial flavorings are some of the things based on wood products, at least in part. Many of these chemicals are derived from lignosulfates, which is the "glue" that helps hold wood together.
Lastly, many foods contain tree products. It's not simply "sawdust" added as fillers! Fruits and nuts are the most obvious, perhaps. Cinnamon is tree bark, dried and ground. Coffee, chocolate, and real vanilla all come from trees. Torula yeast is found in many food items, including baby food, imitation bacon, breakfast cereals, and some beverages. Sweeteners can be made from wood that are added to chewing gum, toothpaste, and drugs. Scientists are working on a new sweetener called xylitol that helps fight tooth decay. It's a by-product of paper-making.
Use of wood in Michigan-made products is extensive and diverse. For a list of hundreds of products, scroll down to the table at the bottom of this page. However, some of the more interesting, and maybe unusual, products are listed right here. Lastly, the Michigan DNR maintains a Forest Product Directory that can be queried. Nearly two thousand entries are listed.
---
The following websites list several hundred products that are made of wood or contain wood products.
University of Kentucky's "Products Made From Wood," by Terry Conners.
---