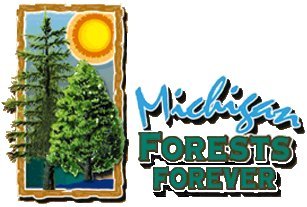 MICHIGAN FORESTS FOREVER TEACHERS GUIDE
---
Note: This page needs more information.
Studies of recreation can be "sliced and diced" many different ways. The portion directly attributable to forests is sometimes difficult to extract. Swimming, for example, is not really a forest-based activity unto itself, but would swimming statistics at state forest beaches be the same if there were no forests to attract people in the first place? Would a wildland stream attract the same number of visitor days for canoeing and fishing if it were not bordered by forest? How would motel, restaurant, and gas station incomes during the snowmobile season be affected if there were no forest, or the forest had unattractive attributes?
Michigan "forest-based" recreation has many facets, some more (or less) tied to forests.
Aquatics
Camping
Gathering
Hunting & Trapping
Motorized Trails
Non-motorized Trails
Waterfalls
Wildlife Viewing
Forest recreation can be described in quantitative and qualitative terms. The numbers and days for many activities are available. There are many miles of trails and thousands of designated campsites. The statistics suggest a high use of our forests for recreation, which is not a surprise. However, the actual numbers of some activities might be an eye-opener of some. They also suggest that recreation activities are concentrated on relatively few acres, either a point such as a campground or a linear corridor such as a snowmobile trail. Most of our forest acres actually have very low visitor use.
Finding information about the qualitative aspects of forest recreation is more difficult. What is a quality experience? For whom? At what point do use levels and development begin to make the experience unacceptable to the more sensitive user? How many docks does it take before the lakeshore appearance loses its wild character? In whose opinion? Should forest recreation be managed for the masses without concern for the minority who seek solitude and wildness? What is wildness? Is it only a congressionally designated wilderness area? For some it might simply be a place away from home that has lots of trees and lacks stoplights. For others, wildness might be compromised by the presence of an invasive exotic plant species or an old logging road. How many state forest campers are offended by the use of a portable generator by an RV owner? Or a radio? Or a dog barking in the middle of the night?
Miles, Numbers, and Counts
Public agencies are reasonably good at maintaining visitor use statistics for their particular jurisdictions. At first, it would seem a fairly simple task of contacting the agencies and adding their numbers together. However, public agencies manage only about a third of our forest resource. There is a large amount of recreation that occurs on commercial forests and private, non-industrial forests. Additionally, agencies will use different census techniques and different units of measurement, making a simple addition a questionable practice. However, by looking at a few examples it is easy to see just how important forest recreation is in Michigan.
State Forest Bullets
18.4 million visits per year
13,000 miles of trout waters
8,000 miles of forest roads
7,000 miles of canoe routes
6,000 miles groomed snowmobile trails
3,100+ miles of ORV trails & routes
3,000 campsites in 145 campgrounds

880 miles of hiking, biking, & pathway trails
657 rail-to-trail conversions
600+ access sites to lakes & rivers
500 miles of Great Lakes shoreline
355 miles of shore-to-shore trail
242 miles of groomed ski trails
List of Forest Recreation Activities
This list could get very long, depending if you're a "lumper" or a "splitter" when it comes to categorizing things. How many of the following activities have students in your class done?
Hiking
Mountain Biking
Swimming
Berry Picking
Mushroom Hunting
ATV / Four-Wheeling
Photography
Downhill Skiing
Picnicking
Dune Climbing
Relaxing
Nature Centers
Deer Hunting
Waterfall Hunting
Bird Watching
Camping
Backpacking
Canoeing
Kayaking
Trapping
Dog Training
Frog Catching
Rock Climbing
Orienteering
Butterfly Catching
Fishing
Dirt Biking
Bird Hunting
Tree Climbing
Wildflower Hunting
Horseback Riding
Dog Sledding
Historic Sites
Bug Collecting
Snowshoeing
Geo-caching
Pleasure Driving
Leaf-Peeping
Gathering
Snowmobiling
Exploring
Wood Cutting
RV-ing
Tobogganing
Outdoor Education
Listening to Night Sounds
Cross-Country Skiing
Walking
Hunting in Michigan
Hunting, especially deer hunting, is a long-standing, popular, and powerful tradition. Each year, over half a million people take to the forests to shoot a deer or other game. The tradition is filled with family experiences, collection of friends, and plenty of lore. Deer have almost taken-on an aura of mystical proportion among many; together with a collection of facts and fantasy. It is an enterprise that some say is worth several billions of dollars each year to Michigan.
All of our game species are forest dependent, especially the early successional forests like aspen and oak. Forest management has played a critical role in maintaining habitat suitable for game species. Some would argue that the habitat is too favorable; to the point where deer have become serious threats to the forest in some areas. Hunting is one of the few tools available to resource managers to keep herd sizes in check, although this tool is insufficient to do the job well.
Much of the state forest lands were purchased under certain federal acts for the purpose of wildlife (game) management. Pittman-Robertson (1937) and Clarke-McNary (1924) are two of the most important acts. Pittman-Robertson places a federal tax on hunting equipment and ammunition to pay for wildlife research and development. Clarke-McNary provides funds for tree planting, forestry agencies, wildfire suppression, and the acquisition of land. Oddly, perhaps, is the spikes in Pittman-Robertson revenue when Democrats control the White House and, conversely, low revenues when Republicans hold sway.
---