MICHIGAN FORESTS FOREVER TEACHERS GUIDE
---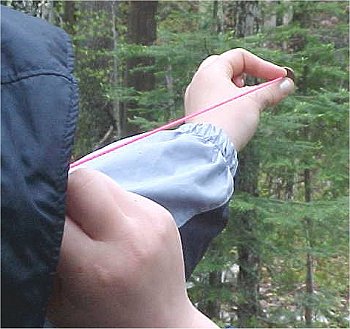 HOW TO USE A HOMEMADE PENNY GAUGE
TO MEASURE STAND DENSITY
1. Drill hole in penny.
2. Knot string through penny hole.
3. Mark string 24.75 inches from penny.
4. Tie knot at mark.
Note: Dimensions are based on a "10 factor" variable point sample calculation.
Caution: This is NOT a precision tool! It is designed as an inexpensive device to teach students forest measurements.
"Stand Density"
has to do with how many trees are in an area and how large the trees are. A thousand trees per acre may, or may not, be a lot of trees depending upon their size. A thousand seedlings is generally more than recommended, but the density is still low. 250 large, saw-timber sized trees per acres would likely be a high density forest. Density is typically measured in units of square feet and is called
"basal area"
(link to the Forest Descriptor page in the Tree Basics section).
To Calculate Stand Density Using "Basal Area"
1. Stand at plot center.
2. Start with a tree you'll remember.
3. Hold penny away from eye at string's length (see figure 1).
4. Use gauge to count "in" trees (see figure 2)
5. Turn in a clockwise direction.
6. Multiply plot tree count by 10.
7. Result is "square feet per acre."
8. Mark "in" trees for additional measurements such as dbh, height, species identification, etc.
---
Figure 1 - Correct way to hold penny gauge.
---
Figure 2 - Determining "out" and "in" trees based on width of penny.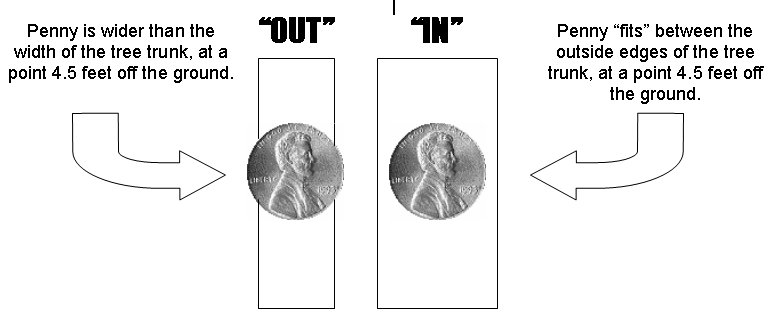 ---
Page Name: Curriculum/SupportDocs/PennyGauge.htm